2018
Patrick Eyres and Karen Lynch
New Arcadian Press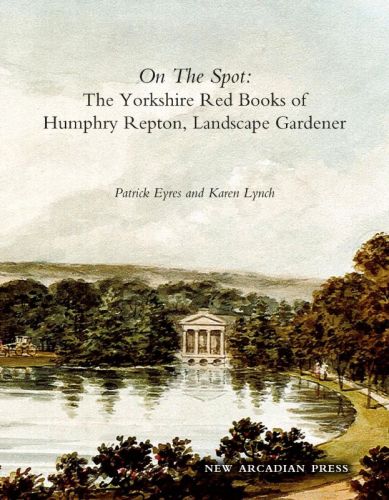 Image - watercolour from the Red Book for Oulton Hall (reproduced by permission of the West Yorkshire Archive Service)
The nine Yorkshire commissions of Humphry Repton spanned the twenty years between 1790 and 1810. Patrick Eyres and Karen Lynch enlarge the knowledge of his landscape gardening in Yorkshire in general, by offering new insights into these commissions, and, in particular, by reproducing the six extant Red Books that he produced for patrons in the county.
Repton is renowned for creating the Red Book, which was his innovatory and unique mode of presenting design proposals in the form of an exquisite, one-off artwork exclusively for his patron. The term 'Red Books' is also used generically to embrace Repton's collective output of reports, whether bound in red Morocco leather or not.
The phrase, 'On the Spot', was frequently used by Repton in Red Books to refer to his site visits. He was 'On the Spot' for Earl Fitzwilliam at Wentworth Woodhouse, Rotherham, in 1790, 1791 and 1794, for Lord Loughborough at Rudding Hall, Harrogate, in 1790 (Red Book lost), for Bryan Cooke at Owston Hall, 1792, and Bryan Darwin Cooke at Bessacre Manor, c.1792 (Red Book lost), both outside Doncaster, as well as for Baron Mulgrave at Mulgrave Castle, Whitby, in 1792.
After this flurry, Repton was next 'On the Spot' for Baron Harewood at Harewood House, Leeds, in 1800, and for Henry Gally Knight at Langold Hall, Rotherham, in 1805 (Red Book lost). He was 'On the Spot' again around Leeds in 1809 for the merchant banker, John Blayds II, at Oulton Hall, and the textile manufacturer, Benjamin Gott, at Armley House.
Electronic copies can be purchased from New Arcadian Press website.