Student Bursary Scheme
YGT's first Horticultural Bursary was awarded to  a young volunteer student gardener, Zac who had been on placement at York Museum Gardens.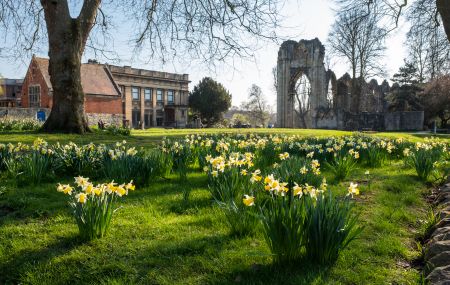 Zac was an Askham Bryan horticulture student, needing to undertake 100 hours' work experience to successfully complete his year. Zac's travel expenses were supported by his bursary award enabling him to successfully complete his placement.
Steve Williams, Gardens Manager reported:
Zac was absolutely surprised and delighted that YGT was able to assist him with his work experience placement at York Museum Gardens, and whilst a young man of few words, his grin spoke volumes.

Zac was committed to developing a career in horticulture which is not an easy path to pursue and YGT's help along the way was appreciated. He was great to have working with the team and he helped to make a difference in York Museum Gardens.
Small Grants
Friends of Moorgate Cemetery, Rotherham: www.moorgatecemetery.org.uk
For the creation of a planted area and to purchase some tools. This is the start of a project to restore the cemetery which will include the restoration of the chapel.
---
Broomhill Community Trust, Sheffield: www.broomhill-library.org.uk
A charity formed to raise funds to upgrade the library building and to restore the historic garden, designed by Percy Cane in the 1920s, in the grounds of a former large residential property. This is part of a project to restore the remaining garden and extend the current library.
---
Friends of Valley Gardens, Harrogate: http://www.friendsofvalleygardens.co.uk
To enable the Friends Group to create and produce the Harrogate Valley Gardens Souvenir Guide. The Friends help restore, improve and maintain Valley Gardens.
---
Ripon Museum Trust, Ripon: https://riponmuseums.co.uk/workhouse-museum-garden/workhouse-museum-gardens/
A grant towards restoring the Ripon Workhouse Master's Garden to be representative of a middle-class domestic garden of the 1890s.
---
Wortley Hall Walled Garden Heritage Project, South Yorkshire: https://www.wortleyorganic.org/
For the new guidebook A Guide to the History of Wortley Hall and its Gardens.
---
Duncombe Park, Helmsley: www.duncombepark.com
A grant made towards the cost of repairs to the Tuscan Temple, an important feature within the Grade I historic designed landscape.