Lecture / Talk
Unforgettable Gardens
A series of 5 on-line Zoom talks in conjunction with The Gardens Trust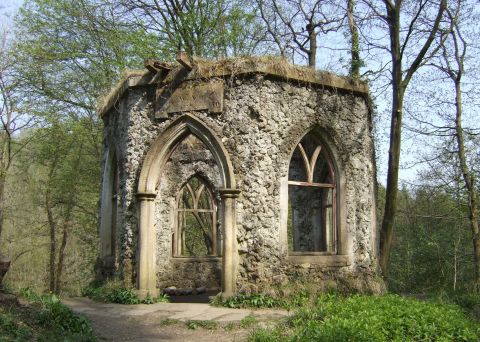 Description
Week 1. 2nd March. Castle Howard: A Landmark in the Mind and the Eye – Christopher Ridgway
Castle Howard has furnished visitors with sights, sensations and memories ever since early tourists witnessed the Earl of Carlisle's new building and gardens taking shape at the beginning of the 18th century. This first talk on Castle Howard will discuss what visitors have seen over the centuries, how they responded to the landscape, and how Castle Howard acquired a reputation well beyond the boundaries of Yorkshire.
Christopher Ridgway has been Curator at Castle Howard since 1985.
Week 2. 9 March. Three Yorkshire Gardens – Tom Stuart Smith
Tom Stuart Smith says: "I have been lucky enough to work a lot in Yorkshire over the last few years and will talk about three very different gardens. The first, Mount St John, with astonishing views over the Vale of York; the second, an enclosed walled garden at Middleton Lodge near Darlington; and the third, a public garden for the Hepworth Wakefield. They are very contrasting in their styles, and I will talk about how this is a response not just to very different client briefs but also to the varied setting of the gardens."
Tom Stuart-Smith is a landscape architect whose work combines naturalism with modernity and built forms with romantic planting.

Week 3. 16 March. Old Durham Gardens in the context of early Durham gardens – Martin Roberts
The talk will first offer a contextual summary of the city's gardens, briefly looking at the medieval period before more closely examining Durham's late sixteenth century and seventeenth century gardens, such as those around Durham Castle, examples broadly contemporary with work at Old Durham. The continuing story of the city's planned landscapes will consider early-mid eighteenth century sites, notably the Durham Riverbanks, many of which have known or probable links with cathedral canon and landscape designer, Joseph Spence.
The 1984-2000 restoration of Old Durham Gardens will then be illustrated in detail, concluding with the continuing restoration and replanting work of the Friends of Old Durham Gardens from 2010, including its revival of Music in the Gardens, a tradition going back almost three hundred years.
Martin Roberts has lectured widely on the region's historic buildings and landscapes, and alongside published research in local and national journals he has written books on Durham City and Durham University.
Week 4. 23rd March. Some of Mr Aislabie's other places: Kirkby Hall, Kirkby Fleetham & Hackfall, North Yorkshire
This talk will explore two of the lesser-known designed landscapes of William Aislabie, following on from previous talks for TGT by Mark Newman on the work of father and son John and William Aislabie at Studley Royal, North Yorkshire.
After the death of his father John in 1742, William, politician and gentleman landscape designer, continued his father's landscaping projects developing, inter alia, properties at Kirkby Hall, Kirkby Fleetham and the rugged woodland landscape of Hackfall between the 1740s and 1770s.
William Aislabie and the designed landscape of Kirkby Hall, Kirkby Fleetham by Gail Falkingham This part of the talk will explore the development of the Kirkby Hall estate, William Aislabie's marital home from 1724, through a variety of surviving archival and documentary sources.
Gail Falkingham was formerly County Archaeologist for North Yorkshire and now works part-time at the North Yorkshire County Record Office. Gail's research report on Kirkby Hall is available to download from the YGT website via this link: https://yorkshiregardenstrust.org.uk/kirkby-hall-kirkby-fleetham
Hackfall by Mark Newman
This part of the talk will explore how William's fairly modest initial aspirations soon burgeoned into a project on the grandest of scales, drawing huge tracts of the Studley estate into a single great designed landscape, culminating in the rugged glen of the River Ure at Hackfall.
Mark Newman is the National Trust's Archaeologist for Yorkshire and the North-East.
Week 5. 30th March. The Future of Memory at Castle Howard – Christopher Ridgway
This second talk on Castle Howard to be given by Christopher Ridgway, will chronicle how the estate has worked to preserve its priceless array of gardens, lakes, woods and monuments that comprise one of the most spectacular landscapes in the UK. The perennial equation of managing change and continuity sit at the heart of how Castle Howard remains an unforgettable landscape, but today fresh environmental, political, and economic pressures mark the 21st century as one of the most volatile periods in its history. How will Castle Howard outlast these new challenges?